Enjoying forestry in Fujino's abundant nature
Mr. Masayuki Sakamoto
Born in Chizu-cho, Yazu-gun, Tottori Prefecture in 1967. Moved to Fujino from nearby Hachioji about 10 years ago. Lives with his wife and two children. Makes a living in forestry.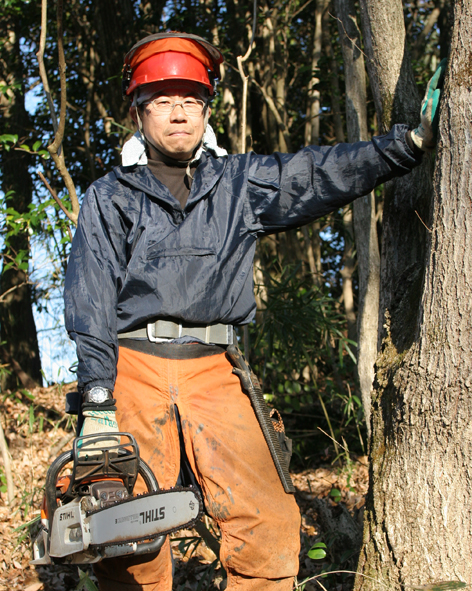 While working and living in the city of Hachioji, I longed to return to the countryside like where I grew up. I did not know about Fujino despite its proximity to Hachioji. A real estate agent first introduced me to Fujino. My first visit felt like returning to my roots. Surrounded by many mountains and having four distinct seasons, I realized, "this is the place we want to live."
About 6 months after settling in Fujino, I decided to work in the mountains. I was able to make that decision only because I moved to Fujino. I hadn't thought much about it until now, but I was familiar with timber from helping my parents run their lumber mill. In addition, the mountains were my playground when I was a little boy. It was an easy decision for me. My work in the mountains relaxes me. I get up at five in the morning and come home by early evening. I then take a bath, have dinner with my family and go to bed by nine. That's my life in Fujino.
The winter in Fujino can be cold. Our water pipe froze during our first winter. Despite such hardship, I really enjoy life in Fujino. I like hiking in the Hizure Alps above the neighborhood. When I moved into the community, the local residents welcomed me and my family warmly. You can live a very comfortable life here.